Bioengineering
You are here
Home
› Bioengineering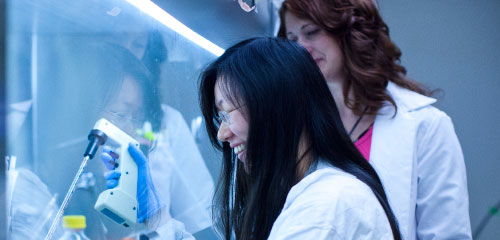 Bioengineering Overview
Bioengineering is a highly interdisciplinary field in which the techniques, devices, materials and resourcefulness of engineers are used to address problems in biology and healthcare; and lessons from biology are used to inspire design and inform progress in engineering.  During the past 40 years, this synergy between biology and engineering has led to a wide range of implantable materials, diagnostic devices, sensors and molecular characterization techniques, and it has produced tools that great expedited the sequencing of the human genome.  Along with these practical innovations has come a rapidly increasing need for personnel with the necessary hybrid skills to capitalize on them, and undergraduate bioengineering programs have proliferated alongside the continued growth of bioengineering research.
The undergraduate major in Bioengineering is designed to provide students with both breadth and depth in two exciting and rapidly expanding fields:  tissue engineering and Nano bioengineering.  The Nano bioengineering track reflects that synergy is here to stay between the "nano" and "bio" themes in engineering and science.  The name also highlights an initial focus on things molecular, supramolecular, cellular and material, which will allow the program to draw efficiently on the talents of the biologists, chemists, physicists and other UC Merced faculty in basic engineering and science programs.
Areas of Research in Bioengineering                       Careers
Stem cell tissue engineering and research
Heart tissue, Blood Vessel tissue, Regenerative tissue
Materials engineering based on natural phenomena
K-12 science and technology curriculum enhancement

Law
Research
Medicine
Education
Biomedical Industries
 
Bioengineering Learning Outcomes
Upon graduation, our graduates demonstrate:

An understanding of biology and physiology;
The capability to apply advanced mathematics (including differential equations and statistics), science, and engineering to solve problems at the interface of engineering and biology;
The ability to address problems associated with the interaction between living and non-living materials and systems;
Professional and ethical responsibility.
  More Information