Cognitive Science
You are here
Home
› Cognitive Science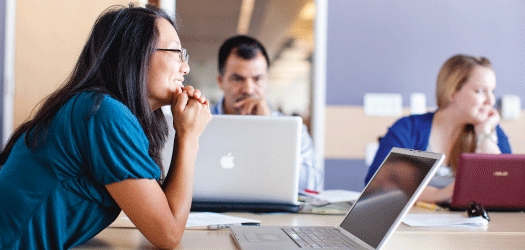 Cognitive Science Overview
Cognitive Science is the interdisciplinary study of human thought and behavior. It combines methods, theories, and applications from many disciplines, including philosophy, psychology, linguistics, computer science, neuroscience, and biology.
The Cognitive Science majors, B.A. and B.S., provide a broad knowledge of cognitive science, including language and communication, reasoning, memory, categorization, cognitive modeling, perception and action, philosophical foundations, artificial intelligence, cognitive engineering, and cognitive science applications for the business setting.
A degree in Cognitive Science provides in-depth training in research methods, data analysis, modeling, and lab-based research, and it provides excellent training for jobs in high-tech companies. It is ideal for students who want to pursue graduate work in cognitive science, neuroscience, psychology, computer science and engineering, information sciences and information management, communications, medicine, business, management, law, and education.
Areas of Research in Cognitive Sciences       Careers
Categorization, Reasoning and Memory

Computational Neuroscience
and Artificial Intelligence
Spatial Cognition, Giftedness, Reading,
Learning/Language Disabilities

Psychology of Language

Biographer
Copywriter
Educator/Administrator
International Business
Labor Relations Specialist
Mental Health Clinician
Psychologist
Research Associate
 
Cognitive Science Learning Outcomes
Upon graduation, our graduates demonstrate:

Explain and apply knowledge of landmark findings and theories in cognitive science.

Design, interpret, and evaluate simple behavioral and neuroscientific experiments.

Interpret and appreciate formal and computational approaches in cognitive science.

Argue for or against theoretical positions in cognitive science.

Use a cognitive science education outside of the undergraduate classroom, particularly in the service of careers.
More Information