First Year Student Admissions FAQ
You are here
Home
› First Year Student Admissions FAQ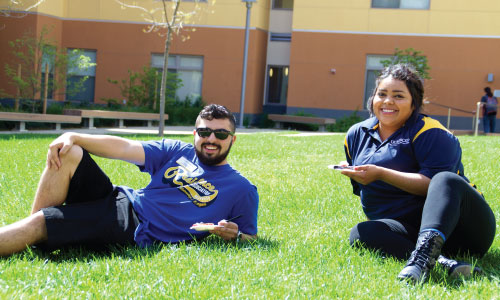 First Year Student Admissions FAQ
1. How do I check the status of my application?
You will receive an acknowledgment email that will notify you when you can begin checking your admissions status.
2. Who do I contact if I want to take a tour of UCMerced?
Come visit us! Schedule a tour led by one of our friendly student tour guides.
3. How can I get in touch with an Admissions counselor?
4. When can I apply to UC Merced?
The filing period for admission to UC Merced is Nov. 1 through 30 every year for the following fall semester. The filing period for the spring semester is July 1 through 31. Visit our apply page for more information.
5. What are UC Merced's school codes?
UC Merced's ACT code is 0450 and College Board Code is 4129. Our financial aid code is 041271. Our financial aid website offers helpful resources on financing your education.
6. When will acceptance notices be sent out?
Students will be notified of admission decisions for the fall semester beginning in March.
7. What happens if I was denied admission?
The Office of Admission has an established appeal committee composed of three unit staff member that review all cases.  When submitting an appeal to a decision, please provide relevant information that may not have already been available.  Information on how to appeal a decision is provided when the decision are delivered in your student portal.
8. Can I earn credit at UC Merced by taking Advanced Placement (AP) exams?
Depending on your major, you may be able to earn credit for a score of 3 or higher on Advanced Placement tests. For more information on Advanced Placement credit, reference the UC Merced General Catalog.
9. When do I apply for financial aid?
The filing period for the Free Application for Federal Student Aid (FAFSA) is October 1 through March 2 every year for the following fall semester. Since financial aid is awarded on a first-come, first-served basis, students are encouraged to apply early in the filing period. At UC Merced, your FAFSA application also serves as your scholarship application. Students do not have to fill out more than a single form to apply for both local and federal funding.
10. Can I change my major after I apply to UC Merced?
Incoming "first year" (freshman) students will be assigned an academic advisor who will assist with questions about your intended major.   Before you register for fall classes—which typically happens in mid- to late June--your academic advisor will send an email to your UCM email account with course recommendations for registration; it is important that your intended major is up to date so you receive accurate course recommendations.  If you are interested in changing your major, you will do so using a webform provided by your academic advisor in that email.  Some restrictions do apply, once you have completed the webform your academic advisor will be in touch with more information.
Transfer students -
Incoming transfer students are typically not allowed to change their major after they have been admitted to the University.  Students should work closely with their academic advisor regarding all changes to curriculum.  For additional details please contact your academic advisor: http://advising.ucmerced.edu/
11. Why Can't I use VISA card to pay my SIR on Epay?
The university's current contract with VISA does not allow us to offer online payment options with the terms and condition identical to MasterCard, Discover and American Express card. To comply with this contractual obligation we are unable to accept VISA as a payment option for enrollment-related fees on Epay.
12. Will I be able to graduate in 4 years?
There are many factors that contribute to the time it takes for an individual to graduate; including but not limited to: major, study habits and time management skills, major changes, etc. For more information about graduation rates, visit this link.