Spanish
You are here
Home
› Spanish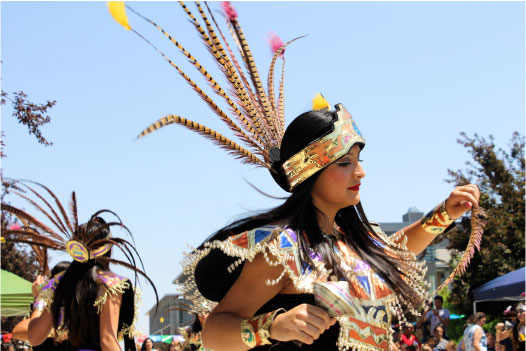 Spanish, B.A.
The major in Spanish at UC Merced will provide students with the linguistic skills and necessary cultural background to communicate their ideas in Spanish in different professional contexts, to think critically, and to analyze literary works. In doing so, the major in Spanish will help students to face the demands of an ever more globalized society, one that requires and values linguistic and cultural competence in more than one language.
Most employers appreciate employees with knowledge of a second language, Spanish being one of the languages most demanded. In order to use a language in an efficient manner, the speaker should be familiar with the main social traits that define the native speakers of such a language, as well as with their cultural manifestations, literature and history. Knowledge of the particularities of the language associated with professions is also a relevant tool to relate to and work with native speakers.
The B.A., in Spanish will emphasize the study of Hispanic Literature as well as Spanish Linguistics and Culture. The Spanish major strives to engage students' capacity for rigorous analysis and independent thought within a considerable range of disciplines and endeavors, and to cultivate the intellectual, creative, ethical, and social qualities essential for leadership in a rapidly changing global community. We seek to make our program a lively intellectual environment that fosters innovative thinking among faculty and students alike.
Areas of Research in Spanish  

Community, Identity, Migration, Nationalism, Transnationalism
20th and 21st Latin American narratives and cultures
Hispanic culture in film, literature and television

Careers

Law
International Business
Business Writer
Journalism
Foreign Service
Advertising
Editing and Publishing
Spanish Learning Outcomes
Upon graduation, our graduates demonstrate:

Spanish writing and reading skills equivalent to at least the advanced-high level of the American Council on the Teaching of Foreign Languages (ACTFL) Proficiency Guidelines;
Demonstrate Spanish speaking and listening skills equivalent to at least the advanced-high level of the ACTFL Proficiency Guidelines.;
Explain and apply the major theoretical perspectives in literary analysis;
Identify and apply linguistic concepts pertinent to the Spanish language when analyzing writing and oral, literary and non-literary texts;
Articulate similarities and differences within the cultures of the Hispanic world by discerning the main topics and characteristics of different historical periods, and by analyzing literary and non-literary texts in light of their historical embedment in the Latin American, US Latino and Spanish contexts

 
  More Information