Overview of Anthropology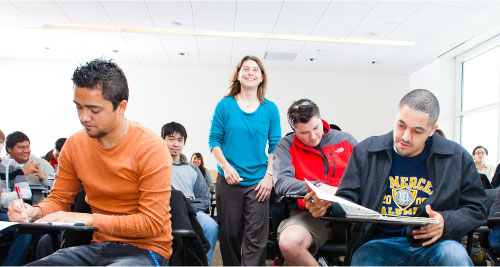 Anthropology is dedicated to understanding humankind's diversity as well as what makes us uniquely human. Through the specific perspectives and methods of socio-cultural, archaeological, and biological anthropology, students learn how the human experience (past and present) is constituted through the interaction of social, cultural, political, material, historical, environmental, and biological factors. Anthropology strives for a holistic understanding of humankind and, depending on the questions asked and the means used to discover answers, anthropological knowledge can straddle the social sciences, humanities, and natural sciences.
About the Program
The Anthropology program at UC Merced distinguishes itself by focusing research and teaching on a select group of common research themes relevant to our local, state, and global communities. The undergraduate program emphasizes methodological skill and intellectual rigor in addressing specific issues within these themes, and promotes undergraduate research opportunities — including working on faculty research, service-learning, and individual research — that deepen learning experiences and attract students to our program.
Areas of Research
Identity, race, ethnicity, and the nation-state;
Transnationalism, migration, and demography;
Health, nutrition, and the environment; and
Heritage, tourism, and public culture
Potential Careers*
Forensic anthropologist
Museum curator
Peace Corps staffer
Historic preservation specialist
Cultural artifact specialist
Ethnologist
Genealogist
Multicultural education specialist/director
Paleontologist
* Please Note: Some of these carers might require education beyond a Bachelor's degree.
Learning Outcomes
Students graduating from the Anthropology program demonstrate the following: 
Possess and apply fundamental anthropological knowledge, including terminology, concepts, intellectual traditions, and theoretical approaches;
Identify and analyze common topics of research shared by the sub-fields of anthropology;
Understand ethics and responsibility in the practice of anthropology and in our roles as citizens;
Recognize and appreciate what it means to be human and how ethnographic, archaeological, and biological knowledge contribute to that understanding;
Understand both qualitative and quantitative research methods as they apply to anthropological inquiry;
Possess skills to communicate anthropological knowledge effectively through writing, oral presentation, and data presentation in various formats for diverse audiences.
More Information about Anthropology