Overview of Biological Sciences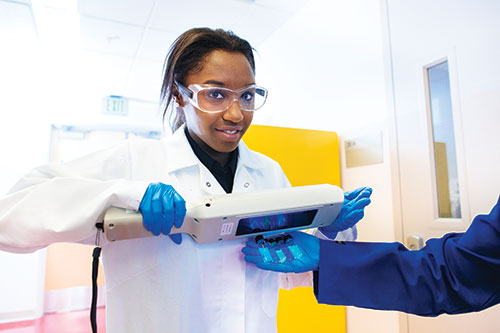 The Biological Sciences address many of the most important and fundamental questions about our world:
What is life?
How does our brain produce our ideas and emotions?
What are the limits to human life and physical capabilities?
How do we feed the world's growing population?
Could medical science ensure that our children won't have to worry about disease?
Moreover, there has never been a more exciting and important time to study biology. From the mapping of the genome to understanding the molecular basis of human disease to predicting the effects of global climate change on ecosystems to understanding fundamental processes that produce and sustain life on Earth, the Biological Sciences are at the forefront of finding answers to some of society's most vexing problems.
Students in the BIO major at UC Merced can select among specialized "emphasis" tracks, instead of individual majors. In this way, all biology students graduating from UC Merced will have a common foundation necessary for biologists in the 21st century, as well as specialized skills and knowledge to aid in their pursuit of careers in biology-related fields or graduate / professional school training. There are five emphasis tracks in the biological sciences: Molecular and Cell Biology, Human Biology, Ecology and Evolutionary Biology, Developmental Biology, and Microbiology and Immunology.
About the Program
This program teaches biology as a multidisciplinary science, reflecting the increasing role of chemistry, physics, mathematics, computer science and advanced technologies in the life sciences.
Students majoring in Biological Sciences can choose between five emphasis tracks providing background in different areas of biology:
Molecular and Cell Biology
Human Biology
Ecology and Evolutionary Biology
Developmental Biology
Microbiology and Immunology
These emphasis tracks consist of a sequence of five or six upper division courses that are taken in the second, third, and fourth years of the program.
Areas of Research
Gene expression related to growth, disease, stress and aging
Spatial Cognition, Giftedness, Reading, Learning/Language Disabilities
Behavioral Genetics
Evolution
Potential Careers
Medical and health services manager
Genetics counselor
Physician's assistant
Nurse practitioner
Health educator
Biochemist
Botanist
Animal health technologist
Entomologist
Food scientist
Forensic scientist
Marine biologist
Toxicologist
Wildlife rehabilitator
* Please Note: Some of these carers might require education beyond a Bachelor's degree.
Learning Outcomes
Students graduating from the Biological Sciences program demonstrate the following:
An understanding of the tenets of modern biology and an understanding of how cellular functions are integrated from the molecular level to the cellular level, through to the level of organism, populations, and functioning ecosystems.
An ability to develop and critique hypotheses and to design experiments, models, and/or calculations to address these hypotheses.
The ability to use appropriate instrumentation and computational tools to collect, analyze and interpret data.
The ability to read, evaluate, interpret, and apply numerical and general scientific information.
A familiarity with and application of safety in good laboratory and field practices.
Sample plans of study for the Biological Sciences degree may be found in the School of Natural Sciences website ns-advising.ucmerced.edu.
More Information about Biological Sciences