May 14, 2019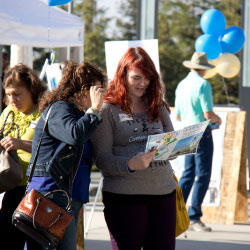 Transfer Day is intended to provide admitted transfer students with the information they need to be successful at UC Merced in the fall.
When: May 14, 2019
Where: UC Merced Campus
Agenda: Program agenda, 2018 (pdf)
As an admitted transfer student, you and your family are invited to:
Check in will be between 9:00 - 10:45 a.m., and the day's events conclude at 4 p.m. A complimentary lunch will be provided at noon. View the program agenda, 2018 (pdf).
Register for Transfer Day
Registration not available at this time.
Parking, Directions and Check-In Instructions
To get directions to the campus, input the address 5200 Lake Road, Merced, CA 95340. You can also view a campus map at ucmerced.edu/maps.
 
Please arrive 20 to 30 minutes before your scheduled tour time to allow for parking and check-in.
 
The main entrance to campus is on Scholars Lane. Please park in the Bellevue Lot at the entrance of campus. There will be a parking staff member by the kiosk to provide you a parking permit.
 
Proceed up the sidewalk toward the Visitor Center. It is about a 5-minute walk.
 
If you have any questions or concerns, feel free to contact Kia Tan at (559) 824-7473 or email ktan27@ucmerced.edu. We look forward to seeing you on campus!