May 7 & May 8, 2020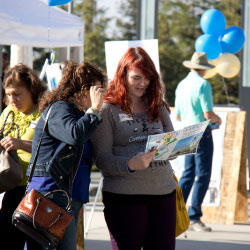 Transfer Day is intended to provide admitted transfer students with the information they need to be successful at UC Merced in the fall.
When: May 7 & May 8, 2020
Where: UC Merced Campus
Agenda: Program agenda (pdf)
As an admitted transfer student, you and your family are invited to:
Go on a campus tour
Attend a presentation on UC Merced next steps
Learn about the Transfer, Returning, and Veteran (TRV) Program and hear about the transfer student experience from TRV fellows.
Submit any supplemental documents such as transcripts at the Students First Center
There will be two program sessions.
Session I:
10:00 a.m. - 2:00 p.m.
Registration starts at 9:00 a.m.
Session II:
1:00 p.m. - 4:00 p.m.
Registration starts at 11:00 a.m.
A complimentary lunch will be provided at noon for all attendees.
Register for Transfer Day
You will need your UCM Net ID and password to register for the event.
For instructions on how to claim your UCM Net ID, view this video or contact us at admissions@ucmerced.edu or 209-228-7178 for further assistance.
Parking, Directions and Check-In Instructions
To get directions to the campus, input the address 5200 Lake Road, Merced, CA 95340. You can also view a campus map at ucmerced.edu/maps.
Please arrive 20 to 30 minutes before your scheduled tour time to allow for parking and check-in.
The main entrance to campus is on Lake Road. Parking will be free starting at 8 a.m. in the Scholars Lot, located off Scholars Lane after the entrance to campus. After you park, go to a pay station and follow these instructions:
On the main screen, select "Code."
Enter the code 05147315 and press the green button to confirm.
Enter your license plate number and press the green button to confirm.
Press the green button to confirm the free parking.
Your transaction is complete. You can print a receipt if you prefer, but it is not required.
For issues with parking, call Transportation and Parking Services at 209-228-8277.
If you have any questions or concerns about Transfer Day, feel free to contact Sheila Xiong at 209-201-5583 or sxiong24@ucmerced.edu. We look forward to seeing you on campus!