The Office of Admissions hosts a variety of informative online webinars where you can hear from students, faculty and staff to learn more about UC Merced. 
Can't make it to the webinar you're interested in? All of the live sessions will be recorded and available 3-5 days after the event. If you need assistance accessing our online events, review this information. 

Upcoming Webinars
Looking for more virtual events? View our Become a Bobcat Virtual Series designed especially for admitted students to explore our campus.
Past Webinars - Recordings Available For Replay
Intended Audience:

High School and Community College Educators

Virtual Educator Tour Presentation: Office of Financial Aid and Scholarships

Feb 23rd 12:00pm-1:00pm PT

The Office of Financial Aid & Scholarships is committed to the success of our students by providing financial aid and advising services that support student recruitment, retention, and timely degree completion, and ensures that a world-class education remains within reach for all eligible students who need financial assistance to achieve their educational goals. Come find out how we assist our students with making college affordable.

Recording Available Soon
 

Intended Audience:

High School and Community College Educators

Virtual Educator Tour Presentation: Student Success at UC Merced

Feb 18th 12:00pm-1:00pm PT

The mission of the Calvin E. Bright Success Center is to provide learning support, transition programs, and individualized interventions which empower UC Merced students to be successful in their academic and personal development. They provide opportunities and co-curricular experiences that aid students in enhancing their knowledge of university resources, academic and personal growth/ development, and advocacy and access. Through intentional collaborations and program delivery, we focus on overcoming barriers and celebrating academic milestones. Come find out more about how we support our students for their success at UC Merced.

Intended Audience:

High School and Community College Educators

Virtual Educator Tour Presentation: Undergraduate Research Opportunites (UROC)

Feb 16th 12:00pm-1:00pm PT 

UROC opportunities allow students to apply academic knowledge in real-world settings. Research experiences outside the classroom expand their perspectives on practical issues, enrich their values, help them explore career paths, connect them with the campus and community, and more. The real-world skills gained through these experiences assist in career development and personal growth. Come find out more about how we help engage undergraduate students with the research being conducted at UC Merced.

Intended Audience

Prospective, applicants, admitted students

UC Merced: Empowerment Through the Black Student Experience

Prospective students will be able to hear from current students about their experiences at UC Merced. This panel covers areas related to academic majors, living in the Living and Learning Community, student life, research and student support services.
1. When you register for a webinar, you will receive an email confirmation with a link. Clicking on the link will allow you to join the webinar via Zoom. If this is your first time participating in a webinar, we encourage you to visit the webinar link early and ensure your equipment is set up to properly view the event. 
Other Ways to Prepare for the Webinar:
Test your connection to Zoom:  Join a test meeting
Watch this tutorial on how to join a Zoom meeting:
1. When I click on the Zoom link in the email, nothing happens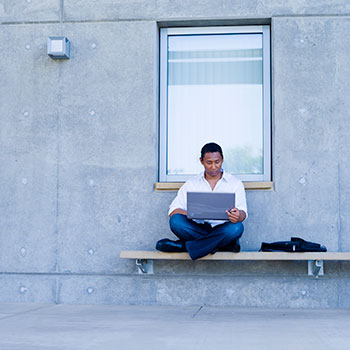 If clicking the link does not open the webinar, you can download Zoom Client for Meetings and follow these steps:
Install the application. 
Open the Zoom Client and click Join a Meeting.
Locate the 9-digit meeting ID/webinar ID from your registration email. It will be in the join link just after https://ucmerced.zoom.us/j/
In the Meeting ID / Personal ID / Personal Link field, enter the 9-digit webinar ID, and click Join.
Enter your name and email address if requested. Click Join Webinar. This should take you into the webinar if the webinar is in session.
2. I cannot hear audio for the webinar
In order to hear the audio for the webinar, you will need either speakers or headphones for your device. See the Zoom Help Center page about audio for assistance. 
2. Is my computer ready?
If you have already participated in one of our webinars using Zoom, your computer should already be setup. You can test you connection to Zoom ahead of the meeting by joining a test meeting.
3. How do I connect to the webinar when I am ready to attend?
When you signed up for the webinar you will receive a confirmation email. The confirmation email will contain the URL for the webinar. Please click on that URL or copy-and-paste it into your web browser's address bar. 
We suggest trying to access the URL several minutes before the meeting is scheduled to begin (all webinars will be available 30 minutes before the start time).
4. What if my internet connection to the meeting is broken?
If you have to leave the webinar for any reason, or if you get disconnected, you can simply click on the link to the Zoom meeting and rejoin the webinar.
5. What if I am using a mobile device (smart phone, tablet)?
Zoom webinars can be viewed on a mobile phone or tablet. Follow the instructions for your device on Zoom's Joining a Webinar page.
6. What if I need more technical support to get my Zoom?
Please check the Zoom Video Tutorials for assistance.
7. What if I want to watch the recording of a previous webinar?
Our goal is to have the recordings of each webinar available within 3-5 days after the webinar has completed. When it is ready, we will change the "Register Now" button to "Play." Click on the "Play" button and the recording will start.
Additional questions?
Please contact Rickee Hill at rhill4@ucmerced.edu.