Admissions Webinars
The Office of Admissions hosts a variety of informative online webinars where you can hear from students, faculty and staff to learn more about UC Merced.
Can't make it to the webinar you're interested in? All of the live sessions will be recorded and available 3-5 days after the event.
Past Webinars
Date
Title

Feb. 1, 2019

12:00 pm - 1:00 pm (PST)

UC Transfer Admission Planner

Join us for a live walk-through of the UC Transfer Admission Planner tool, where we will demonstrate how to enter student information and academic history. The webinar will highlight how UC uses the UCTAP tool to outreach to transfer students, and will address the benefits of using the UCTAP tool for students and counselors.

Available to view: UC Merced Admissions Webinar: UCTAP (opens in YouTube)
Date
Title

Nov. 6, 2018

6:00 pm - 7:00 pm (PDT)

University of California Application Tips

A UC Merced Admissions advisor will be online to share advice on how to fill out the UC application, what to avoid, and what you need to know about the factors evaluators consider.

Available to view: UC Merced Admissions Webinar: Application Tips (opens in YouTube)
Date
Title

Oct. 26, 2018

6:00 pm - 7:00 pm (PDT)

Assistance With Your Personal Insight Questions

Join a UC Merced Admissions representative for an in-depth session on filling out the University of California application, including tactics for answering the personal insight questions. Learn about the factors that UC Admissions considers and what to avoid, and get answers to any confusing aspects of the application.

Available to view: UC Merced Admissions Webinar: Assistance With Your Personal Insight Questions (opens in YouTube)
How to Join the Webinar
1. When you register for a webinar, you will receive an email confirmation with a link. Clicking on the link will allow you to join the webinar via Zoom. If this is your first time participating in a webinar, we encourage you to visit the webinar link early and ensure your equipment is set up to properly view the event. 
Other Ways to Prepare for the Webinar:
Test your connection to Zoom:  Join a test meeting
Watch this tutorial on how to join a Zoom meeting:
Troubleshooting FAQs
1. When I click on the Zoom link in the email, nothing happens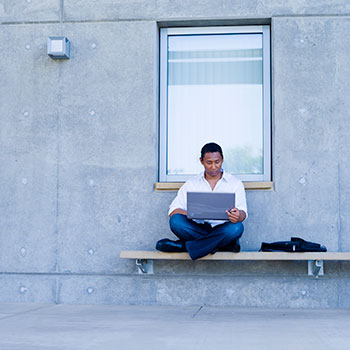 If clicking the link does not open the webinar, you can download Zoom Client for Meetings and follow these steps:
Install the application. 
Open the Zoom Client and click Join a Meeting.
Locate the 9-digit meeting ID/webinar ID from your registration email. It will be in the join link just after https://ucmerced.zoom.us/j/
In the Meeting ID / Personal ID / Personal Link field, enter the 9-digit webinar ID, and click Join.
Enter your name and email address if requested. Click Join Webinar. This should take you into the webinar if the webinar is in session.
2. I cannot hear audio for the webinar
In order to hear the audio for the webinar, you will need either speakers or headphones for your device. See the Zoom Help Center page about audio for assistance. 
2. Is my computer ready?
If you have already participated in one of our webinars using Zoom, your computer should already be setup. You can test you connection to Zoom ahead of the meeting by joining a test meeting.
3. How do I connect to the webinar when I am ready to attend?
When you signed up for the webinar you will receive a confirmation email. The confirmation email will contain the URL for the webinar. Please click on that URL or copy-and-paste it into your web browser's address bar. 
We suggest trying to access the URL several minutes before the meeting is scheduled to begin (all webinars will be available 30 minutes before the start time).
4. What if my internet connection to the meeting is broken?
If you have to leave the webinar for any reason, or if you get disconnected, you can simply click on the link to the Zoom meeting and rejoin the webinar.
5. What if I am using a mobile device (smart phone, tablet)?
Zoom webinars can be viewed on a mobile phone or tablet. Follow the instructions for your device on Zoom's Joining a Webinar page.
6. What if I need more technical support to get my Zoom?
Please check the Zoom Video Tutorials for assistance.
7. What if I want to watch the recording of a previous webinar?
Our goal is to have the recordings of each webinar available within 3-5 days after the webinar has completed. When it is ready, we will change the "Register Now" button to "Play." Click on the "Play" button and the recording will start.
Additional questions?
Please contact Dustin Noji at dnoji@ucmerced.edu.