Ask the Office of Admissions
If you have any questions about applying to UC Merced, we're here to help!
UC Merced Admissions, Undergraduate:
Transfer Initiative Program
Amandip Singh
North Central Valley: Merced County, San Joaquin County and Stanislaus County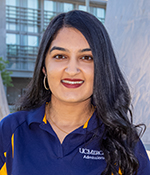 Hometown: Ripon, CA
Major in college: Management and Business Economics with Public Health minor
Fun fact about me: I love hiking! You can always find me chasing waterfalls!
Why I love UC Merced: UC Merced has always felt like home to me. As an alumna from UC Merced, I love that our campus feels like a close-knit community and that everyone is always willing to help. Our university is dedicated to student success, and I am so proud to play an active role in that commitment!
Mariah Tresvant
South Central Valley: Fresno, Kern, Kings and Tulare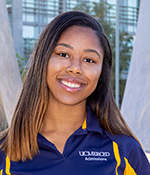 Hometown: Los Angeles
Major in college: Psychology
Fun fact about me: I foster animals.
Why I love UC Merced: I love UC Merced because the desire and passion for student success is evident through the way the campus' faculty and staff go above and beyond to meet the needs of the students. As an alumna, I can vouch that I always feel most welcome and at home with UC Merced. 
Sheila Xiong
Statewide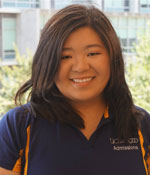 Hometown: Merced
Major in college: Psychology
Fun fact about me: I love paddle boarding (SUP)!.
Why I love UC Merced: UC Merced is a place with tremendous heart; our staff, faculty and students are some of the most compassionate and hardworking individuals. The amount of support and resources available to help individuals grow, dream, succeed and pursue the unknown is just incredible. You can feel it the moment you step on campus that UC Merced is the start of something new, something extraordinary— and that's what I love the most.
More Questions? We're Here to Help