Ask the Office of Admissions
If you have any questions about applying to UC Merced, we're here to help!
UC Merced Admissions, Undergraduate:
Contact a Transfer Admissions Advisor
Sheila Xiong
Bay Area: Alameda, Contra Costa, Marin, Napa, Santa Clara, San Francisco, San Mateo, Solano, Sonoma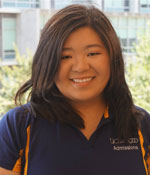 Hometown: Merced, CA
Major in college: Psychology
Fun fact about me: I love stand up paddle boarding (SUP)!
Why I love UC Merced: UC Merced is a place with tremendous heart; our staff, faculty and students are some of the most compassionate and hardworking individuals. The amount of support and resources available to help individuals grow, dream, succeed and pursue the unknown is just incredible. You can feel it the moment you step on campus that UC Merced is the start of something new, something extraordinary— and that's what I love the most.
More Questions? We're Here to Help