Overview of Materials Science and Engineering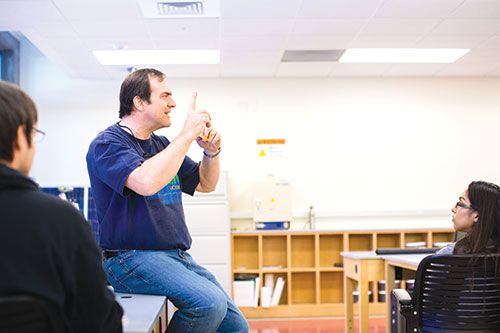 Since the beginning of civilization, technological progress has always relied on the materials that people were able to acquire from nature or through trade or by innovation. Wood, stone, bronze, iron, steel, aluminum, cements, plastics, semiconductors, liquid crystals, nanomaterials and quantum dots all have unique properties that enable — but also limit — what humans can make and do.
Nations continue to go to war over access to particular raw materials. The construction of safe dwellings, the conveniences of rapid travel, the efficiency of telecommunications, the calculating and archiving power of computers, the life-prolonging gift of surgical implants and the dazzling performances of athletes all require dependable materials.
Future technological progress of any kind will always be driven by the available materials.
The Materials Science and Engineering program at UC Merced is accredited by the Engineering Accreditation Commission of ABET, http://www.ABET.org.
Areas of Research
Materials engineering based on natural phenomena
K-12 science and technology curriculum enhancement
Careers
Metallurgical engineer
Materials production researcher
Manufacturing engineer
Nanotechnology expert
Aircraft and space materials expert
Integrated circuits materials expert
Magnetic and optical materials expert
Polymer materials expert
Biomedical materials expert
* Please Note: Some of these carers might require education beyond a Bachelor's degree.
Learning Outcomes
Students graduating from the Materials Science & Engineering demonstrate the following: 
An ability to identify, formulate, and solve engineering problems by applying principles of engineering, science, and mathematics.
An ability to apply both analysis and synthesis in the engineering design process, resulting in designs that meet desired needs.
An ability to develop and conduct appropriate experimentation, analyze and interpret data, and use engineering judgment to draw conclusions.
An ability to communicate effectively with a range of audiences.
An ability to recognize ethical and professional responsibilities in engineering situations and make informed judgments, which must consider the impact of engineering solutions in global, economic, environmental, and societal contexts.
An ability to recognize the ongoing need for additional knowledge and locate, evaluate, integrate, and apply this knowledge appropriately.
An ability to function effectively on teams that establish goals, plan tasks, meet deadlines, and analyze risk and uncertainty.
More Information about Materials Science and Engineering