UC Merced is pleased to host Bobcat Day, a special day for first year students, transfer students, and their families. Our local community is welcomed too and explore the UC Merced campus!
When: Saturday, April 23, 2022
Where: UC Merced Campus
Parking: Complimentary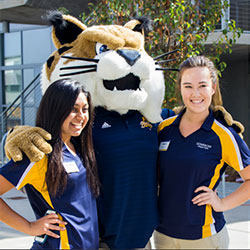 This is our biggest event of the spring! Come see UC Merced at its liveliest and take a tour of campus, meet with faculty, attend presentations from each of our academic schools, talk to Financial Aid and Admissions staff, discover student clubs and organizations, and much more.
This is your chance to explore the university and learn about the academic and student life opportunities we offer. 
Get answers to your questions about:
Admissions
Majors
Research and Internship Opportunities
Housing and Dining
Financial Aid and Scholarships
Student Activities and Athletics
Presentation topics will cover financial aid, admissions, student life, and much more!
Details Coming Soon About Bobcat Day:
---
Schedule at a Glance
 
 
9:00 a.m.
Registration / Information Desk
 
Information Fair
As you explore campus, you'll discover almost 200 exhibitors ranging from academics, student life and clubs, support services, athletics, and more, so you can ask questions and meet current students, staff and faculty.
 
 

Campus Tours

Join us for a UC Merced campus tour! Our student tour guides are a lively group who are excited to show you everything they love about UC Merced. A tour will provide the opportunity to explore the campus, get answers to all your questions and get to know a friend or two. Tours will last approximately 45 minutes and will be announced every 30 minutes between 10AM – 2PM. Meet on Academic Walk between Granite Pass and the Pavilion and look for the "Campus Tours" table to check-in and get started!

 

Housing - Self - Guided Tours

Take a self-guided tour of our on-campus housing options. Meet on Academic Walk between Glacier Point & Granite Pass and look for the "Housing Tours" sign to get started.

 
 
Presentations
 
10:00 a.m

School of Engineering (Admitted & Prospect Students)

This session will provide admitted students and families with information on the School of Engineering majors, experiential learning opportunities, and support services. In addition, the Dean and current engineering students will share their experiences and how those opportunities can help shape your academic journey at UC Merced. 

Bioengineering | Civil Engineering | Computer Science and Engineering | Environmental Engineering
Materials Science and Engineering | Mechanical Engineering

 

School of Natural Sciences (Admitted & Prospect Students)

The School of Natural Sciences is conducting cutting-edge research, from fighting disease to creating sustainable energy sources. Hear from the Dean and current students how working side-by-side with world-renowned faculty deepens your knowledge. Learn about student resources, academic planning, mentorships, internships, and career opportunities awaiting.

Applied Mathematical Sciences | Biological Sciences | Chemistry | Environmental Systems Science | Physics

 

School of Social Sciences, Humanities & Arts (Admitted Students)

Join our SSHA session to meet our dedicated staff who support SSHA students. What better timing than now to learn why SSHA degrees are popular and interesting and you'll hear first-hand from our student panel about their academic experience. We will be sharing new highlights about SSHA majors, internships, research opportunities, special projects, student clubs, career support and graduate school opportunities.

Anthropology | Cognitive Science | Critical Race and Ethnic Studies | Economics | English 
Global Arts Studies | History | Management & Business Economics | Philosophy | Political Science
Psychology | Public Health | Sociology | Spanish

11:00 a.m.

Campus Jobs, Internships, & Career Planning

Join us to learn how the Office of Leadership, Service and Career is dedicated to guiding students through their career and leadership development process. Our innovative services are designed to facilitate growth and introduce students to opportunities for meaningful work. It's never too soon to talk about your career path. Staff and current students will share the intentional way we help UC Merced students chart their course to career success.

 

Student Support Services

Student success is key to UC Merced's mission of teaching, learning and service. Access to holistic, student-centered guidance and support is a hallmark of the Bobcat Journey. Programs offered through the Calvin E. Bright Success Center and the Division of Undergraduate Education offer learning support, developmental opportunities, and individualized interventions which empower Bobcats to be successful academically and personally. Come find out more about how, together, we support student success at UC Merced! 

 

Preparing for Admission to the University of California? (Prospective Students)

Join one of our Admissions Representatives as they discuss how first-year students (freshman) can best prepare themselves for admission to the University of California. In this session, we will discuss admission requirements, how to choose the best-fit UC campus, how to present yourself on your application, and how your UC Application will be reviewed.

 

Study Abroad

Join us for a discussion about studying abroad! Learn about the different opportunities available, benefits of participation, and first-hand experiences from current UC Merced students.

 

El rol de los padres en la education universitaria de sus hijos

¿Te haz preguntado qué puedes hacer tú como padre de un hijo universitario para apoyarlos? Ven comparte  y participa de esta plática donde podrás escuchar y aprender de experiencias de otros padres que han ayudado a sus hijos a ser exitosos durante su estancia en la universidad. 

Noon

Housing

Join us to learn about the benefits of on-campus living and the resources available to our students to ensure academic and personal success. We will share housing options, residential education programs and dining options within the university and Merced community.

 

Office of Student Involvement (OSI), Campus Activities Board (CAB), Fraternity & Sorority Life (FSL)

Join us to learn more about campus life and student involvement at UC Merced. First year and Transfer students will have the opportunity to speak with campus representatives from the Office of Student Involvement and hear from current UC Merced students about their experiences in Fraternity and Sorority Life, Clubs, Student Government, student leadership opportunities and much more.

 

I've accepted my admission offer; What do I do next?

This session will guide you through the critical next steps after accepting your admission offer. Participants will better understand how to be prepared to have a successful start to the fall term. We highly encourage you and your guests to attend.

1:00 p.m.

First Year Success: The Bobcat Way

Why do the most successful students regularly meet with their academic advisor in college?  And what is an "academic advisor"?  Learn about the Bobcat Advising Center (BAC) and academic advising for first years--with opportunities starting in late June--to support your personal, academic, and career goals.

 

Chancellor Juan Sanchez Munoz

Join Chancellor Juan Sanchez Muñoz as he welcomes you and your guests to campus. Whether you are preparing to embark on your UC Merced journey or considering joining the Bobcat community, this session has something for you!

 

Black Bobcat Reception

Join us to meet with members of UC Merced's African American/Black community. You can talk with current students, learn about support services, and network with other incoming students.

2:00 p.m.
Bobcat Day Ends - remember to submit your offer of acceptance by May 1st for First Year (Freshman) and June 1st for Transfers! (SIR)
---
Campus Information Fair and Student Entertainment
Booths will line the Carol Tomlinson-Keasey Quad, giving you the opportunity to talk with representatives from each academic school, various student services offices and student organizations.
---
Campus Tours and Demonstrations
Tours of the campus, housing, laboratories and the library will be led by student tour guides. Several registered student organizations will provide entertainment from 10 a.m. to 2 p.m.
Click Here to Download Tour Map
---
Financial Aid Questions? 
Advisors from the Office of Financial Aid and Scholarships will be available to provide answers. To maximize your experience at Bobcat Day, make sure you complete these important steps ahead of time:
---
Preparing for Bobcat Day
Weather Forecast
Be sure to wear comfortable shoes and bring sunscreen and maybe even a hat, since you will be spending a lot of time outdoors. We will have water refill stations around campus, so bring along a refillable bottle.