UC Education Abroad Program
There are opportunities in nearly 35 countries through scores of international partner institutions for summer, semester and yearlong internship, field study and research programs.
More info at studyabroad.ucmerced.edu.
Innovate to Grow
Innovate to Grow is a yearly celebration of student ingenuity. In a way, it's a science fair for college students, where they pitch their ideas to businesses and nonprofit organizations to help solve the challenges they face.
Innovation Design Clinic: Teams of graduating seniors and organizations collaborate, discover solutions to common problems, create and streamline networking, and increase both radical and incremental innovation. 
Engineering Service Learning: Teams of students work on real-world projects for nonprofit community partners. Past teams have used drones to detect illness in crops and made students in Merced County excited about the sciences.
Mobile App Challenge: Over the course of three months, students design, prototype and pitch their ideas for mobile applications that address a need in society. One team recently got offered summer internships at PG&E for creating an app called UpNote, which helps students study for classes.
More info at innovatetogrow.ucmerced.edu.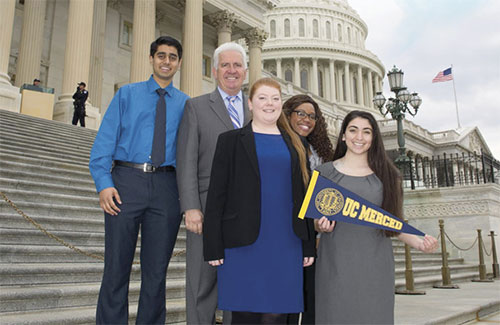 UCDC
UC Merced Washington Program: Combine an internship in your area of academic interest with field research and coursework taught by University of California professors in our nation's capital.
More info at ucdc.ucmerced.edu.
World Heritage Research Experience Scholars Program
WHERE is a new one-year undergraduate research program for students across all academic disciplines. The program focuses on natural and cultural heritage, the legacy of the human past, and how it is reflected today in places, landscapes, and intangible aspects of our cultures. Students create digital maps and GIS databases of culturally relevant places; build 3D visualizations and reconstructions of ancient cities and monuments; and design virtual exhibits and museums to support heritage tourism.
More info at uroc.ucmerced.edu/where.
Yosemite Leadership Program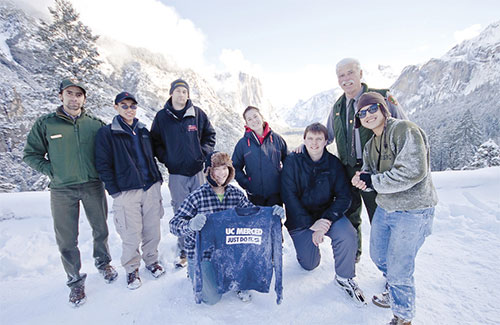 More info at ylp.ucmerced.edu.YLP is a two-year co-curricular program focused on giving UC Merced students, regardless of major or previous outdoor experience, the skills to lead, advocate for the environment, make informed ethical decisions and create social change.
Explore Campus Life
Learn more about student life outside the classroom, such as clubs and organizations, events, Greek life, athletics, and recreation and wellness.