UC Merced Tour Guides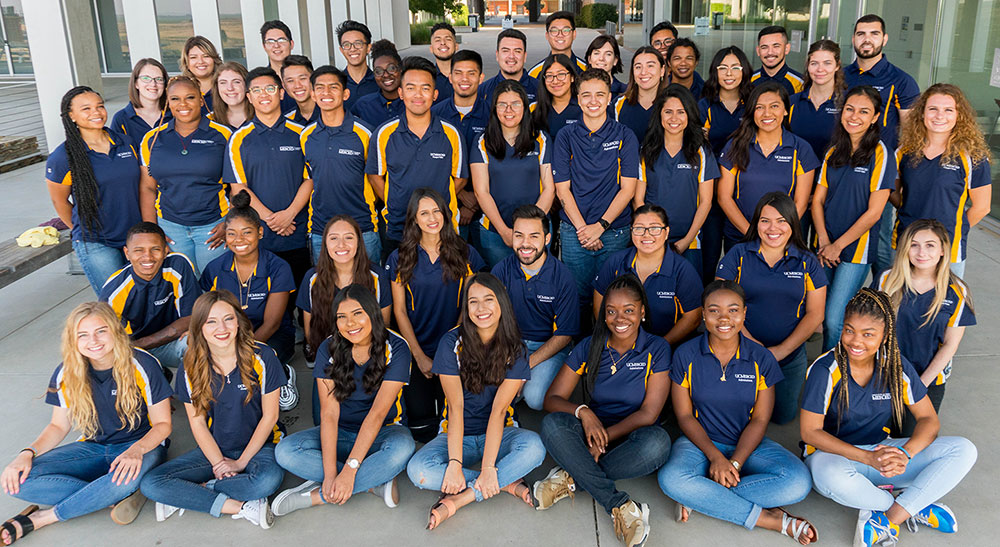 UC Merced Tour Guides, 2018-2019
---
Student Tour Guide Leadership Team
David "Ian" Arizpe Arroyo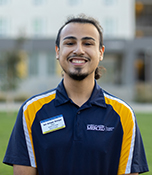 Hello! My name is David Ian Arizpe Arroyo, but you all can call me by my middle name "Ian." I am a fourth year Computer Science and Engineering major here at UC Merced. I spend most of my time doing critical thinking and a ton of math. My hobbies are video games, music production, and I happen to be a TV show connoisseur if I do say so myself.  Can't wait to meet you on your next tour!  
Gisselle Reyes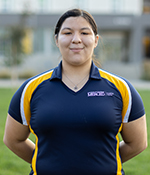 Hello  Everyone! My name is Gisselle Reyes I go by pronouns She/Her/Ella and I am a fourth year public health major, so a little bit about me my hometown is  Los Angeles, CA, on campus when I am not doing tours I am participating in active research, doing community service with my sorority sisters, or I am in the library studying and doing my homework for the week. On the days I am not on campus I enjoy hangout with my friends and going to lake Yosemite or downtown Merced. I like practicing self-care and taking care of my mental health and well-being through painting and/or dancing. Fun Fact I am a baker by heart and can make almost any dessert I see with a unique flavor twist my favorite dessert has been a lemon lavender tart. I can't wait to meet everyone and I hope you can enjoy your future journey here at UC Merced.
Oscar Cortes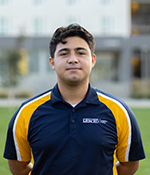 What's up guys! My name is Oscar Cortes, I'm a third year Applied Mathematics major who is also minoring in NSED. My hometown is Bakersfield so I too am from the Central Valley. A little about myself I am a car fanatic and I've even built my own 1990 Jeep Wrangler car from literally a junkyard car to the car I drive daily now. I'm Central American my mom is from El Salvador and my dad is from Honduras. The reason I picked UC Merced was because of the home I felt. Here I felt like I wasn't a stranger and that made all the difference! At UC Merced I'm a Bobcat Tutor for students and also work with teachers in the Merced high school district. I'm also involved with the Den program on campus helping students transition onto college. So in other words I love to help students so never hesitate to say Hi to me or ask me a question chiefs!
---
Student Tour Guides
Adelina M.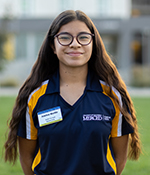 Hey!  My name is Adelina Murillo and I am a first year student here at UC Merced. I was born and raised in Montebello, California. I'm currently undeclared but aiming toward a possible degree in sociology to later work with children. Some things I enjoy doing are hanging with friends and binge watching Netflix. I cannot wait to share my experiences with you over the next couple of years here at UC Merced.
Angelita M.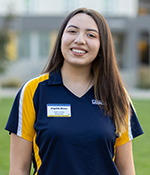 Hello!  My name is Angelita Moran, I am a second year Psychology major here at UC Merced. I come from a Hispanic household in Livingston, CA located in the Central Valley and have grown up speaking Spanish and staying in touch with my culture. As a result, I have spent multiple years participating in folkloric dances from different regions of Mexico. Dancing has become a passion of mine, along with painting, writing poetry, and listening to different genres of music. During my free time, I like to be with my family and friends and enjoy volunteering at local events. Here at UC Merced there are plenty of opportunities to socialize and if you see me around campus feel free to say hi! 
Derek R.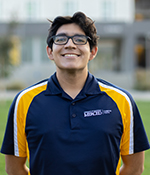 Hey! Glad to see you checking out UC Merced! My name is Derek Rodriguez, and I am a third year majoring in Applied Mathematics here at UC Merced. I am from Lawndale, CA, five minutes from LAX. So excited to be here and hopefully I'll get to meet each and every one of you personally and show you why we as a community love UC Merced! A bit about myself, I'm the External Vice President for our Vietnamese Student Association (VSA), a member of the Water Polo Club team, and a member of Chi Alpha, a religious on-campus organization. Currently, I'm not entirely sure what I would like to do in the future, but I know right now that I want to accomplish my time here and earn my degree. Thank you so much for taking the time and allowing me to introduce myself. Hope you enjoy UC Merced! I'll catch you on the next campus tour! 
Echo V.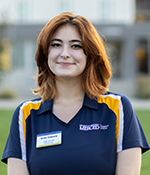 Hi! My name is Echo Valencia and I'm from Elk Grove, which is right outside of Sacramento, CA. I'm a third-year double major in both Psychology and our Global Art Studies Program. I love art, nature, and music! My goal after UC Merced is to continue on to grad school and become a pediatric psychologist. UC Merced has allowed me to major in my passions, and not feel overwhelmed by large class sizes. I absolutely love the community our campus has to offer, and I hope I get to show you my favorite things we have here at UC Merced and Merced. 
Erik G.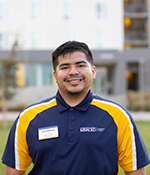 Hello!  My name is Erik Gutierrez and I am currently a third year cellular and molecular biology major. I grew up my whole life in the San Fernando Valley in Southern California but I will usually say I am from Los Angeles. Some hobbies of mine include sports, working out, training in different fighting styles, anime, DC, Marvel, video games, and Star Wars. If I'm not in labs or studying, you could find me at the school explaining lore of fictional worlds or at the gym. I've done some research and internships in conservation where I ventured out to Costa Rica to do research on Sea turtles and their importance to the ecosystem. My goal after UC Merced is to become a scientist to better the world in all aspects in the STEM field. Being a first generation student and Nicaraguan, college was a culture shock but with the help of the staff, faculty, and fellow peers I was able to determine my goal of giving back in any which way I could. I am very excited to show you what our school is all about without further ado! 
Erika M.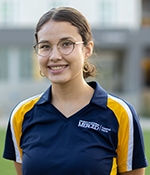 Hello to all!  My name is Erika Murillo-Candelas and although I was born in Mexico I have lived in Merced for most of my life! I am a proud first generation college student. Currently, I am a fourth year student studying under the cognitive science major. If I'm not in class or at the Lantern Cafe waiting for my iced coffee, I'm most likely reading up on the latest brain science research! I hope to conduct research of my own one day and plan on working with children and the different ways that the human brain develops over time. UC Merced is the perfect environment for me to accomplish all of my goals and I am excited to see what my journey holds! I hope to see you very soon!.
Hernoor "Noor" S.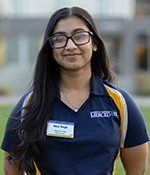 Hi, future Bobcats! My name is Hernoor Singh and I am a fourth year biological sciences major with a focus on development. I have grown up in small developing communities that help individuals like me grow as a person. What drew me more towards Merced was that it was not only a small campus that was growing but it was a tight knit community that was able to provide everyone an opportunity to help them advance not only in their professional career but encourage individuals to grow personally. I have always had a big love for animals, I hope to one day become a Rehabilitator for animals and an Animal Behaviorist. I look forward to being your tour guide on a future campus visit.
Jasmine G.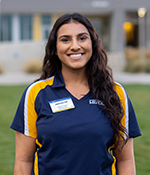 Hello future Bobcats! My name is Jasmine Gill and I am a third year double majoring in Human Biology and Psychology. Some of my hobbies are reading, dancing, and hanging out with friends! I am on the pre-med track so I hope to attend medical school after graduating from UC Merced and become a physician. I am currently one of the Vice Presidents of Phi Delta Epsilon which is the co-ed medical fraternity on campus and also do research on the liver at Stanford University. My decision to commit to UC Merced was greatly influenced by the tour I received as a high school senior so I hope that I can be able to show you why I chose UC Merced to continue my education. 
Jefferson D.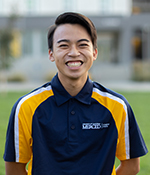 Heya, Hope everyone is doing well! My name is Jefferson Duong and I am a first year from Torrance California. I am a Management and Business Economics major, and am trying to get involved with various things like the Vietnamese Student Association (VSA) and Business Society. I am looking forward to meeting new people and I will hopefully see all of y'all soon :) 
Jorge C.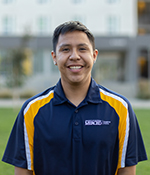 Hello, future Bobcats! My name is Jorge Cruz, I'm a third year majoring in Computer Science and Engineering and minoring in Global Arts Studies I am from Los Angeles, CA. What I plan to do with my major is to go into website or app development. Some of my interests include making music, playing basketball, and watching movies. I've grown to love UC Merced and I'm honestly always learning more each day so I can't wait to share my journey & experience with you all. Feel free to say hi to me, you might see me around campus or in a club, organization, or event.
Laila J.

Hey, future Bobcat!!  My name is Laila Jibrin and I'm from Hacienda Heights, CA, and I'm a third year Human Biology major here at UC Merced! I have a huge passion for photography hiking and rock climbing, and I'm also a professional binge watcher of most tv shows. I am an aspiring pediatrician, making me a pre-med student! I dream of one day being able to provide medical services abroad to countries in need!  On campus, I am a part of Phi Delta Epsilon pre-medical fraternity and an online tutor for elementary students in financial need in LAUSD! I fell in love with UC Merced not only because of its beautiful campus but its the many opportunities it offers its students! Because of its small class sizes and many clubs, organizations, and counseling services for pre med students, I was able to find people that are similar to me and find my Bobcat family. I hope you fall in love with this campus as much as I did 4 years ago on a campus tour as a graduating high school student! 
Leslie Z.

Hello, future Bobcats! My name is Leslie Zavala. I am a fourth-year Psychology Major transfer student here at the UC. I am born and raised in Duarte ,CA located in Los Angeles County. I attended Duarte High School.  I choose UC Merced because the campus felt very welcoming, it offered me an amazing financial aid package, and it was close enough to travel home on a weekend.  If I'm not in class I'm usually at the gym or taking a nice stroll at Yosemite Lake. I can't wait to share my story with you! I welcome you perspective bobcats, I'm looking forward to meet you all.
Rosie C.

Hello fellow Bobcats!  My name is Rosie Cabanas and I am from Anaheim, CA and I am a second year History major with a minor in Political Science at UC Merced. Believe or not but as a History major I have a lot of time in my hands so most of the time I am either studying, working, or hanging out with friends. But mostly hanging out with friends vibin' with music and each others company which is actually one of our favorite things to do whether we are in a room or making memories at the den. Some of my favorite things to do during my free time it is most definitely playing volleyball, shopping, or sleeping with my cat. If I'm not with friends, work, or studying I am 100% watching Grey's Anatomy for the billionth time. I can honestly say UC Merced has been my happy place and I hope you make it yours too! See you soon future BOBCAT!!
Samantha "Sam" D.

Hello Bobcats! My name is Samantha Dougherty, but everyone calls me Sam. I am a Transfer third-year Psychology major and want to be an elementary school teacher after I graduate from UC Merced. When I am not in class or skating around campus, I am probably at home studying or playing video games. Although I am new to UC Merced I have already learned a lot and love the community we have on campus, I hope you all enjoy our beautiful campus too! Can't wait to give you a tour myself!