Requirements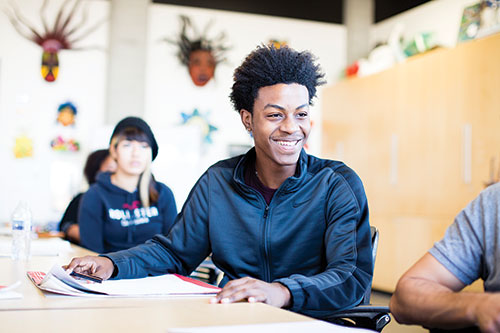 The University considers you a transfer applicant if you enrolled in a regular session at another college or university, except while in high school or summer session immediately following high school. While the University of California gives California community college students first priority over other transfer applicants, the University also accepts those from four-year institutions. In addition, it's possible to transfer from one UC campus to another.
To be considered for admission to UC Merced as a transfer student, you must fulfill either the junior-level or lower division transfer requirements. In addition, you will be required to complete the preparation requirements for your intended major. 
Junior-Level Transfer
Units and GPA
Complete 60 semester (90 quarter) units of UC-transferable college credit
Earn a minimum grade point average of 2.40 (nonresident: 2.80) in UC-transferable courses
Take no more than 14 semester (21 quarter) units as Pass/Not Pass
Course Requirements/Subject Requirements
Complete the following seven-course pattern, earning a grade of C or better in each course:
Two transferable English composition courses
One transferable mathematical concepts and quantitative reasoning course that has a published prerequisite of intermediate algebra
Four transferable courses chosen from at least two of the following areas: Arts and Humanities, Behavioral and Social Sciences, Biological and Physical Sciences
Major Selection Criteria
All majors in the schools of Engineering, Natural Science, and Social Sciences Humanities and Arts are required to complete specific lower division major preparation to be considered for admission. Pay close attention to the required major GPA as it can differ for each school.
Visit the major selection criteria page to find out the requirements for your intended major.
General Education
While general education is not required for admission, it can help speed up your time to graduation once you transfer to UC Merced. We highly recommend reviewing the Transfer Students: Satisfying General Education page in the catalog for a more extensive explanation of the requirements.  
The School of Engineering, School of Natural Science and School of Social Sciences, Humanities, and Arts provides campus guidance about IGETC, please review carefully according to your Major. Also, please visit Assist.org to find "Major Agreements" from your California Community College to UC Merced which details IGETC recommendations by major. 
Lower-Division Transfer
Students eligible to apply for admission to UC Merced as a lower-division transfer student have the option of the "fast track" to our campus. To fulfill eligibility requirements for this pathway, you must meet the following criteria:
Enrollment at a college after high school graduation and fewer than 60 semester (90 quarter) UC-transferable units completed prior to enrollment at UC Merced.
Met requirements for the University of California upon high school graduation (Required GPA, examinations and all "a-g" courses)
Maintain a minimum 2.0 GPA in all transferable coursework (2.8 Nonresidents). Certain majors require a higher GPA.
Please note that at UC Merced, major-specific courses are required for selection. Visit the major selection criteria page to find out the requirements for your intended major.
For more information about the subject, scholarship and examination requirements, visit the University of California Admissions website.
You are also welcome to contact a transfer admission officer if you have further questions.
Note About Associate Degrees for Transfer (ADT)
If you're working toward an ADT, you should choose courses that align with the requirements at the UC campuses you're interested in. Treat the ADT as your early road map to UC. You can use ASSIST or our major preparation paths to guide you in choosing the right courses. Although earning an ADT does not guarantee admission to UC, some campuses consider it in the comprehensive review process.
Helpful Preparation Resources
Use Assist.org
ASSIST provides the most accurate and up-to-date information to help you transfer from a community college to a four-year university. It helps you find which courses transfer to UC Merced. 
Create a Transfer Admission Planner (TAP)
Visit uctap.universityofcalifornia.edu to create an account and start your Transfer Admission Planner. Your TAP will be the first step in applying to the University of California. It will help you to determine if your coursework is UC transferable, what kind of credit you might receive for AP or IB exams, and your UC GPA. The information you indicate in your TAP also will be transferred to the UC application when you are ready to apply.
UC Transfer Pathways
If you're starting out at a California community college and know which major you want to study but haven't decided which UC campuses to apply to, there is a simple way to keep your options open as you prepare for your major. Visit UC Transfer Pathways.
Contact your Transfer Center
Utilize the resources close to you. Transfer Centers and counselors at your campus can help you find the resources you need.
Contact a UC Merced Transfer Admissions Officer
We are here to help you. Sign up for our mailing list for updates or contact us directly for answers to your individual questions.
Transfer Credit Policy
View the Transfer Credit Policy (pdf) for more information.