Branding Yourself for the Future
UC Merced's Office of Leadership, Service and Career will help you build skills and experiences to shape your personal brand and forge a pathway to your future professional goals. For internships and career opportunities, visit hire.ucmerced.edu.
Career Preparation
Professional Services
Work directly with career specialists assigned by academic program who provide individualized coaching, job search assistance and interview preparation, and facilitate employer connections.
Meetups and Events
Meet employers, alumni and community leaders who can enhance your career readiness as you enter the global job market. Ongoing customized programs will empower you to create your best professional self.
Resume assistance and digital brand development
Company and graduate school information sessions
Treks to businesses in Silicon Valley, Los Angeles and San Francisco
Career, internship and graduate school fairs
Networking socials with professionals in multiple fields
Leadership development and community service opportunities
After Graduation
You will find that employers appreciate the intellectual capacity, diverse perspectives and professional engagement of UC Merced graduates. For some students, graduate, law and medical schools beckon after their journey here.
Recent employers who have hired UC Merced graduates:
Apple
California State Assembly
Chevron
E. & J. Gallo Winery
Facebook
Genentech
Google
Kaiser Permanente
Lawrence Livermore National Laboratory
National Park Service
Pacific Gas & Electric Co.
Teach for America
Tesla Motors
Topcon
Vanguard
Yelp
YouTube
Recent graduate schools UC Merced students have been accepted to:
Northeastern University
Santa Clara University School of Law
UC Davis School of Public Health
UC Hastings College of the Law
UCLA School of Public Health
University of Southern California School of Social Work
Pre-Professional Programs
Cal-Teach
The CalTeach/University of California Science and Math Initiative is a program that prepares and supports students who are interested in becoming K-12 math and science teachers.
The CalTeach program at UC Merced offers:
Academic planning advice
Experience in elementary, middle and high school classrooms
Courses designed to enhance and support classroom placements
Information about teacher credentialing requirements in California
Financial assistance for those who qualify (TEACH grant eligible programs)
CalTeach Minors
Natural Science Education Minor with Teaching Credential (NSEC): Completing the NSEC minor allows you to graduate with both a bachelor's degree from UC Merced and a teaching credential in science or mathematics from UC Berkeley.
Natural Sciences Education (NSED)
NSED + Central Valley Teacher Preparation Partnership (CVTPP)
More info at calteach.ucmerced.edu.
Pre-law
The Pre-Law subfield of the Political Science major focuses on the study of legal institutions and behavior of legal actors.
The Merced Pre-Law Society provides resources that will help students get accepted into law school. The group is very active on campus, hosting a variety of events and collaborating with other clubs. They also provide information on different law schools, LSAT prep questions, admission sessions and law icebreakers.
More info at ucmerced.presence.io/organization/merced-pre-law-society
Pre-health
If you are considering a career in the health care field, or would like to do medical research, UC Merced provides rigorous interdisciplinary programs to prepare you for graduate or professional school, and one-on-one attention from faculty members and mentors. Opportunities for leadership and research as an undergraduate provide a competitive edge when applying for post-graduate study.
Pre-Health Advising offers a variety of services, some of which include:
Informational workshops
Assistance with course selection > Exploration of career options
Exam preparation
More info at prehealth.ucmerced.edu.
Post-Baccelaurate Program
Teacher Preparation Program
UC Merced Extension offers a one-year credential program in which you can earn a Single Subject or Multiple Subject Credential with full time study and clinical practice. Learn more by visiting teacherprep.ucmerced.edu.
---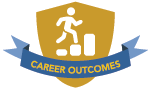 UC Merced was ranked #16
among schools nationally
for career outcomes by
Educate to Career