A Place to Call Home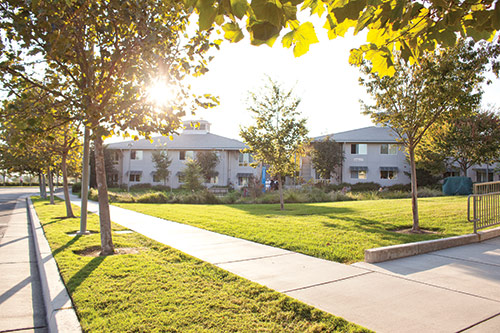 UC Merced is proud to provide priority to all incoming first year and transfer students who meet the necessary application and contracting deadlines stated on housing.ucmerced.edu.
On-Campus Housing
Residence halls offer computer labs with printers, study lounges, a laundry facility with an Internet notification system, a gaming center, a dance and music room, kitchens, outdoor barbecues and more. 
Take a virtual tour: housing.ucmerced.edu/tour
Guaranteed Housing? Yes please!
Housing is guaranteed for two years for first year students and one year for transfer students who meet the stated housing application deadlines. To learn more, visit housing.ucmerced.edu
How Do I Apply for Housing?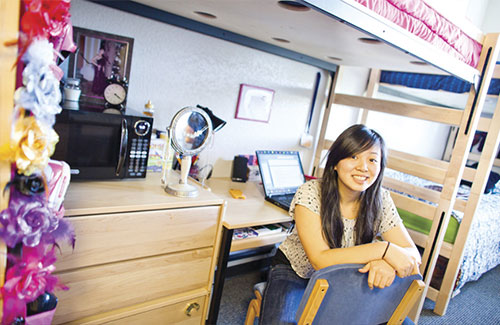 Step 1: Submit your Statement of Intent to Register (SIR) by May 1 for first year students and June 1 for transfer students.
Step 2: Wait 24 hours.
Step 3: Visit housing.ucmerced.edu, select "Apply for Housing" and complete your online housing preference form for first year students or the housing application for transfer students. 
Visit the On-Campus Housing FAQ for everything you need to know about living at UC Merced.
You will need:
Your UCMNetID and password
Dining Options
A meal plan is mandatory because residence halls do not have kitchen facilities that allow all students to cook meals on a regular basis.
What meal plans are provided?
Students can select an all-you-care-to-eat meal plan thatmeets their weekly dietary needs. To learn more about UC Merced dining plans and select the one that's right for you, please read the residential meal plans guide on the dining website. UC Merced Dining Services provides several options for students who choose to eat a vegetarian, vegan or gluten-sensitive diet and strives to ensure that students with special dietary needs can safely dine in our facilities. If you have any challenges navigating our menu offerings or need additional support, please email executive chef Mitch Vanagten at mvanagten@ucmerced.edu to schedule a dining consultation.
CAT Dollars also allow a resident to purchase food and convenience items at other on-campus locations such as The Summits Marketplace, Campus Store, Lantern Café and food trucks.
Campus Safety
Ensuring your safety and security and that of our community is the UC Merced Police Department's top priority; that is why each officer, public safety dispatcher and Community Service Officer (CSO) is highly trained and focused on customer service to meet your needs. They also are some of the friendliest people you will meet on campus and are here to serve you 24 hours, 7 days a week, 365 days a year.  
Some ways we keep you safe:
Emergency Blue Lights are direct lines to dispatch located around campus. In an emergency, anyone can use the blue lights to talk directly to dispatch in order to get assistance quickly or request a safety escort.
Online bike and electronics registration increases the chance that they will be recovered if stolen.
Emergency messages are sent to your cell phone and/or email address using UCM Alert, UC Merced's emergency notification system.