A Place to Call Home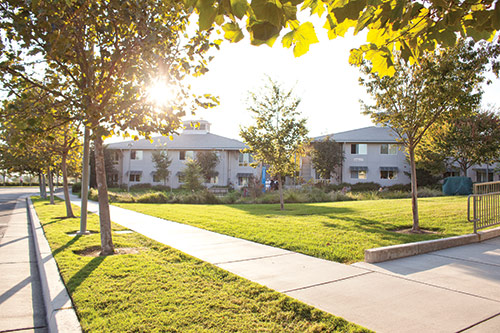 UC Merced is proud to guarantee housing to all incoming first year and transfer students who meet the necessary application and contracting deadlines stated on housing.ucmerced.edu.
On-Campus Housing
Eighty-seven percent of first year students lived on campus in 2017-18. Residence halls offer computer labs with printers, study lounges, a laundry facility with an Internet notification system, a gaming center, a dance and music room, kitchens, outdoor barbecues and more.
Take a virtual tour: housing.ucmerced.edu/tour
Off-Campus Housing
Transfer students living in our Heritage community will reside in one- or two-bedroom apartments with two to four people in the Merced community while maintaining many of the conveniences of on-campus housing. Apartments will include paid utilities, be furnished with bedroom and living room furniture, and include kitchens.
Apartment Rates
Listed below are the housing and dining costs for the 2017-18 academic year for transfer students living in the Heritage community. Rates include $4,800 CAT Dollars per semester for on-campus meal purchases. 
Double Room: $13,440
Single Room: $14,440
Find more information: housing.ucmerced.edu/heritage
How Do I Apply for Housing?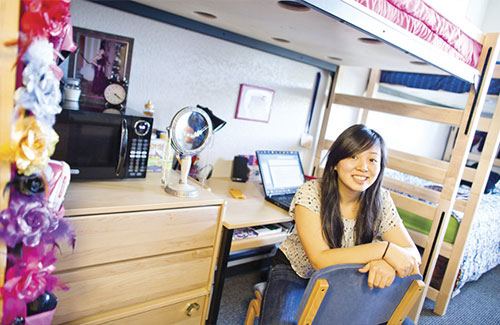 Step 1: Submit your Statement of Intent to Register (SIR) and $300 reservation fee by May 1 for first year students and June 1 for transfer students.
Step 2: Wait 24 hours.
Step 3: Visit housing.ucmerced.edu, select "Apply for Housing" and complete your online housing application. 
Visit the On-Campus Housing FAQ for everything you need to know about living at UC Merced.
You will need:
Your UCMNetID and password
A valid credit card or electronic check to pay the $300 reservation fee. (You can request for this fee to be reviewed for deferment.)
Dining Options
Residents can use their residential dining plan to enjoy the variety of contemporary restaurant-style meals in the Yablokoff-Wallace Dining Center and the new Dining Pavillion at Little Lake. Foods such as Asian, Italian, Mexican, grilled items, vegetarian, gluten-free items, salads and much more are available.
CAT Dollars also allow a resident to purchase food and convenience items at other on-campus locations such as The Summits Marketplace, Campus Store, Lantern Café and food trucks.
Campus Safety
UC Merced strives to keep the campus community as safe as possible. Our full-service UC Merced Police Department is always on call. Emergency blue lights, which are direct lines to the police dispatcher, are located all around campus. In the event of a critical incident, messages are sent to students, staff members and faculty by text message or email immediately using UCM Alert.