Saturday, April - TBD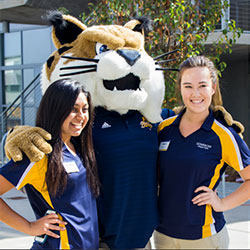 UC Merced is pleased to host Bobcat Day, a special day for first year students, interested transfer applicants and their families.
When: Saturday, April - TBD
Where: UC Merced Campus
Agenda: Bobcat Day Agenda & Map (Flipping Book)
This special day just for admitted students and transfer applicants is our biggest event of the spring! Come see UC Merced at its liveliest and take a tour of campus, meet with faculty, attend presentations from each of our academic schools, talk to Financial Aid and Admissions staff, discover student clubs and organizations, and much more.
This is your chance to explore the university and learn about the academic and student life opportunities we offer. 
Get answers to your questions about:
Majors
Research and Internship Opportunities
Housing and Dining
Financial Aid and Scholarships
Student Activities and Athletics
Register for Bobcat Day
Registration not available at this time.
Details About Bobcat Day
On This Page:
---
Schedule at a Glance
8 a.m.
Registration Opens
 
Financial Aid Table Opens
 
Campus Information Fair Opens
 
Student Entertainment Begins
9 a.m.
Next Steps: Financial Aid, Housing, Class Registration, Orientation
- Presentations in English and en Español
9 a.m.
Center for Leadership, Service and Career
- Defining Your Brand, Internships and Student Employment
10 a.m.
Academic Presentations I
11 a.m.
Academic Presentations II
Noon
Center for Leadership, Service and Career
- Defining Your Brand, Internships and Student Employment
2 p.m.
Campus Information Fair Ends
 
Student Entertainment Ends
 

Bobcat Day Ends
View this agenda as an interactive Flipping Book: Bobcat Day Agenda & Map (Flipping Book)
---
Campus Information Fair and Student Entertainment
Booths will line the Carol Tomlinson-Keasey Quad, giving you the opportunity to talk with representatives from each academic school, various student services offices and student organizations.
---
Campus Tours and Demonstrations
Tours of the campus, housing, laboratories, and library will be led by student tour guides. Several registered student organizations will provide entertainment from 10 a.m. to 2 p.m.
Tours leave from Tour Central at the corner of Science and Engineering 1 and Scholars Lane. See Bobcat day agenda and map (flipbook).
---
Important Financial Aid Information
At last year's Bobcat Day, Financial Aid advisors were in high demand from students wanting clarity about their financial aid packages. To make it easier for you this year, there are a few things you should have handy on Bobcat Day:
Your UC Merced student ID. Your student ID will have been emailed to you. You don't have to memorize it; you can show advisors the email on your phone or bring a printout with you.
Your financial aid award letter and completed Direct Costs worksheet. Watch the How to Complete the Direct Costs worksheet video for help completing the worksheet.
Don't have a paper financial aid award letter? No worries. Use the UC Merced student portal to view the details of your financial aid package. You can use the online award information to complete your Direct Costs worksheet. We can still help you if the only paper document you have to bring with you is the completed Direct Costs worksheet.
Please also be certain to review your financial aid checklist and complete requirements as soon as possible.
Take care of your checklist items here!
If you have been admitted to UC Merced, not only can you submit your Statement of Intent to Register (SIR), you can complete some of the items on your checklist:
---
Take the Bobcat Quest Challenge
Are you coming to Bobcat day? Check out the Bobcat Quest gameboard and instructions (pdf) and claim your prize.

Download the gameboard and instructions (pdf)
---
Facebook Live Streaming
If you can't visit UC Merced for Bobcat Day, we encourage you to follow along with @UCMercedAdmissions on Facebook. We'll go live with a campus tour at 11 a.m. PDT, and a housing tour at 1 p.m. PDT. Join us for an inside look at campus!
---
Preparing for Bobcat Day
Facility Hours:
| | |
| --- | --- |
| Kolligian Library | 8 a.m. - 6 p.m. |
| Lantern Cafe | 7 a.m. - 1 p.m. |
| Yablokoff-Wallace Dining Center | 9 a.m. - 2 p.m. |
| Summits Marketplace | 10 a.m. - 7 p.m. |
| UC Merced College Store | 9 a.m. - 4 p.m. |
| Students First Center | 9 a.m. - 2 p.m. |
Weather Forecast
The forecast calls for mostly sunny skies with highs in the 80s. Be sure to wear comfortable shoes and bring sunscreen and maybe even a hat, since you will be spending a lot of time outdoors. We will have water refill stations around campus, so bring along a refillable bottle.
Parking, Directions and Check-In Instructions
To get directions to the campus, input the address 5200 Lake Road, Merced, CA 95340. You can also view a campus map at ucmerced.edu/maps.
Parking for Bobcat Day is free. You will be directed to park in the Bellevue Lot off North Lake Road. From there, a shuttle will take you to the heart of campus. ADA parking will be available in the Library lot.