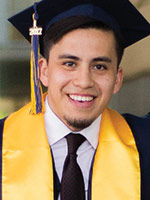 Degree:
B.S., Management and Business Economics
Quote:
"Nothing is out of your reach at UC Merced; all you have to do is lead the way and create your own path to success."
Clubs and Organizations:
I was the CEO of the Business Society.
Where you Work: 
As a Personal Investor at Vanguard, I help all types of investors meet their financial goals – the young adult opening a first account, a family saving for a child's college education, a married couple investing for their first home, a high net worth client preserving their wealth, or an entrepreneur managing their small-business retirement plan.
Undergraduate Edge:
From handling the responsibilities of running an organization to working with local business owners and leaders to grow the community, UC Merced helped prepare me for my career by giving me invaluable opportunities that a student in the 21st century needs to be successful in their future career.