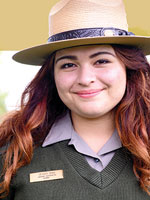 Degree:
B.A., Cognitive Science, with a minor in Anthropology
Quote:
"I LOVE UC MERCED because of the ample opportunities the university provides for its students. The proximity to Yosemite provides several unique programs that change people's lives. The staff and administrators are able to connect with students on a personal level and really make Merced feel like home."
Current Line of Work:
I am a park ranger at Yosemite National Park and am involved in the Every Kid in a Park program, which gives fourth-graders and their families free admission to Yosemite for a year.
Activities/Organizations:
I was involved in the Yosemite Leadership Program, and was a student ranger at Yosemite through the Wilderness Education Center.
Service Projects:
I did my capstone project through the Yosemite Leadership Program, and helped with the Bagby area cleanup and back country restoration.
Special Recognition:
I was the first featured Park Champion in a 2017 video series from Compass Coalition and the Parks Project.
Check out why Jessica fell in love with UC Merced: