Paying for College
UC Merced is firmly committed to making a college education affordable for all students. With financial aid and scholarship resources, attending UC Merced is more affordable than you might think! Learn more at financialaid.ucmerced.edu.
89%
of UC Merced Students received financial aid in 2021-22
$21,477
is the average annual gift aid offered to eligible UC Merced students
* 2021-22 academic year
Learn About Scholarships
There are two types of scholarships available to new undergraduate students at UC Merced:
1. Institutional scholarships
If you completed a FAFSA or California Dream Act application, you don't need to do anything further! You were automatically considered for all institutional scholarships upon your admission to UC Merced.
2. Outside scholarships
There are many privately funded scholarships that do not need to be repaid. They can be based on merit or financial need, or can be geared toward specific types of students.
Learn About Financial Aid
For first year students and transfer students, applying for aid at UC Merced is as easy as 1, 2, 3! Learn more about how to apply for financial aid.
For California Residents
UC Blue and Gold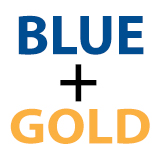 Description: 
UC's Blue and Gold Opportunity Plan will cover your educational and student services fees if you are a California resident whose family earns less than $80,000 a year and you qualify for financial aid.
Award: 
Up to $12,000 a year.
Learn more about eligibility for UC's Blue and Gold Opportunity Plan.
Middle Class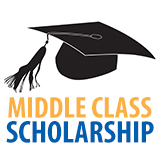 Description:
Starting in the 2014-15 academic year, the Middle Class Scholarship (MCS) program would apply to undergraduate students with family incomes up to $150,000 (who don't already qualify under the Blue and Gold Program) and who attend a University of California or California State University campus.
Award:
Learn more about eligibility for the Middle Class Scholarship (MCS) program.
---
For Out-of-State Residents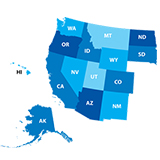 Western Undergraduate Exchange (WUE) students pay substantially less tuition than a traditional nonresident student and can save thousands of dollars over the first year. WUE notifications will be emailed to qualified admitted applicants by late March.
Learn more at admissions.ucmerced.edu/out-of-state/wue.
Description:
Through WUE, students in western states may enroll in participating two-year and four-year college institutions at a reduced tuition level: 150 percent of UC Merced's regular resident tuition. Students from all WICHE member states are eligible to request the WUE tuition discount.
WICHE member states are: Alaska; Arizona; Colorado; Hawaii; Idaho; Montana; Nevada; New Mexico; North Dakota; Oregon; South Dakota; Utah; Washington; Wyoming; and the Common Wealth of the Mariana Islands. WUE students pay substantially less than a traditional non-resident student and can save approximately $17,268 over the first year.
Award:
Save up to $17,268 of non-resident tuition.
Learn more about eligibility for the WUE.
---
Video Resources
Paying for the University of California
---

UC Merced ranked No. 1
out of the top 250 public colleges that offer freshmen the most financial aid by The Student Loan Report in 2017

UC Merced ranked No. 8 in Washington Monthly's 2016 "Best Bang for the Buck: Western Colleges"
UC Merced is the #8 Best College/University for Earning Scholarships in the Goodcall 2016 Best Schools for Scholarships report